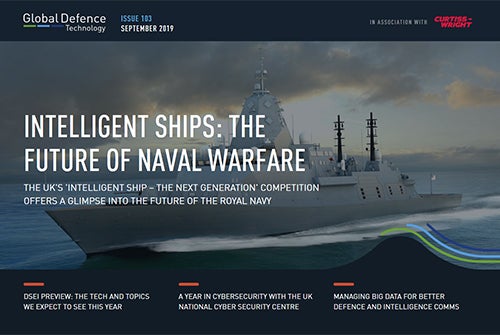 Issue 103 | September 2019
In this issue: Dstl's Intelligent Ship and the future of naval warfare, DSEI preview, emerging cybersecurity threats, training for sixth-generation fighter jets, and more.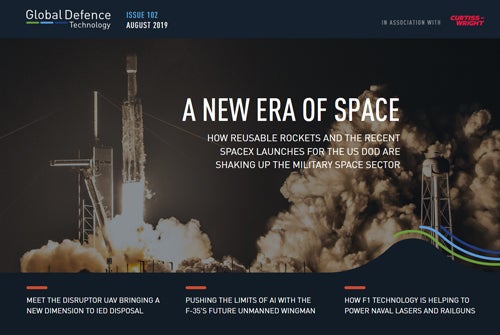 Issue 102 | August 2019
In this issue: SpaceX and the future of US military space launches, the F-35's AI-powered unmanned wingman, a UAV for IED disposal, and more.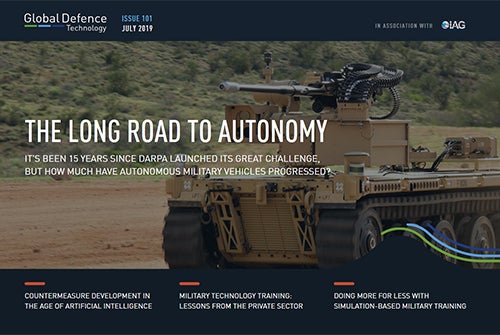 Issue 101 | July 2019
Autonomous military vehicles, using AI to develop countermeasures, tech training lessons from the private sector, reducing cost with simulation training, and more.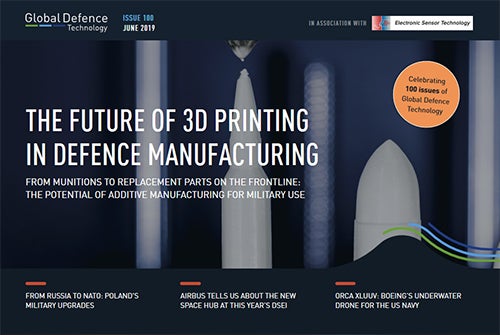 Issue 100 | June 2019
The future of 3D printing in defence manufacturing, Airbus on the new DSEI Space Hub, Poland's military modernisation plan, and more.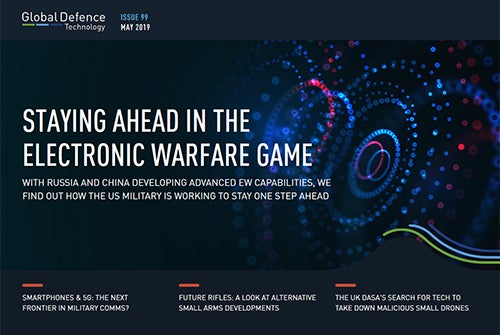 Issue 99 | May 2019
The US Army's electronic warfare programme, the future of communications in the field, new rifle techology, how to take down malicious drones, and more.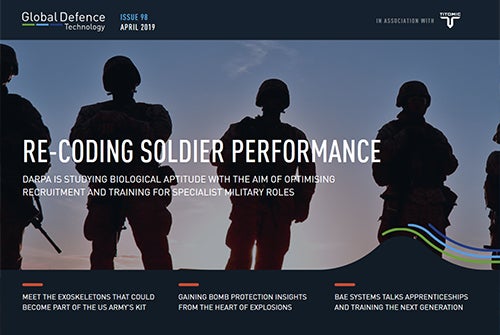 Issue 98 | April 2019
Re-coding soldier performance with biological testing, new exoskeletons, the best of Security and Counter Terror Expo 2019, UAV swarms for search & rescue missions, and more.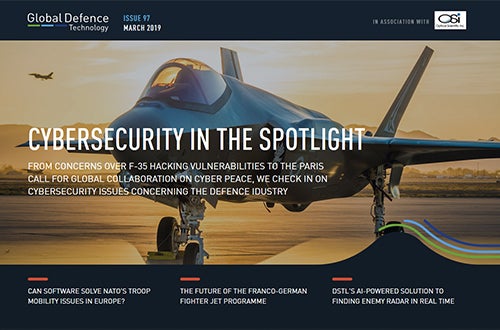 Issue 97 | March 2019
A global effort to keep cyberspace secure, how the F-35 could become vulnerable to hacking, solving NATO's troop mobility issues in Europe, a new AI system to detect enemy radar, and more.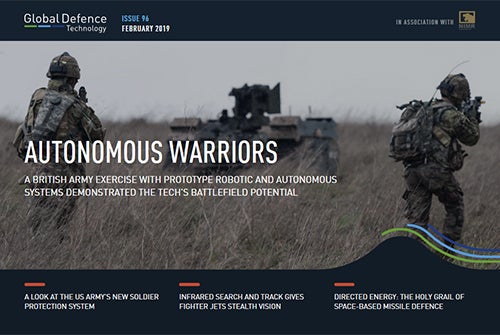 Issue 96 | February 2019
Testing frontline robots, new US Army soldier armour, space-based missile defence, infrared search & track for fighter jets, and more.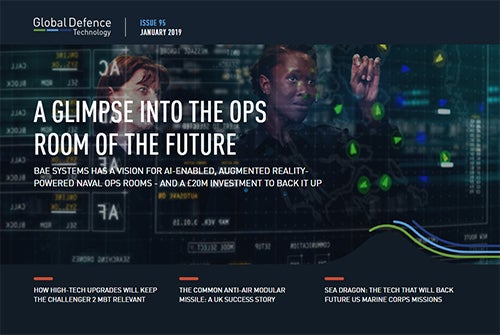 Issue 95 | January 2019
A glimpse into the ops room of the future, high-tech upgrades for the Challenger 2 MBT, the Common Anti-Air Modular Missile, the tech that will back future US Marine Corps missions, and more.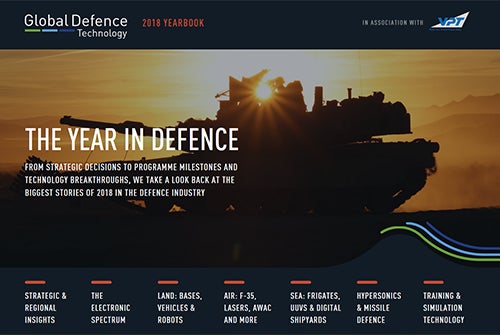 2018 Yearbook
We take a look back at some of the biggest stories, technology news and programme updates from the past year in the defence industry.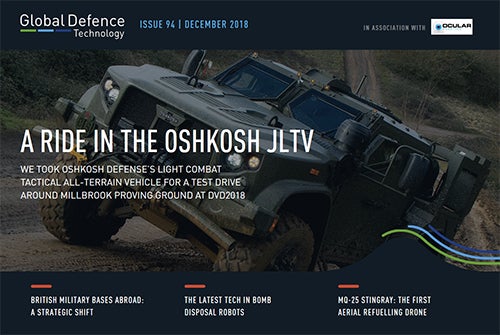 Issue 93 | December 2018
A ride in the Oshkosh JLTV, British military bases abroad, the latest robotic tech for bomb disposal and last mile supply, the first aerial reufelling drone and more.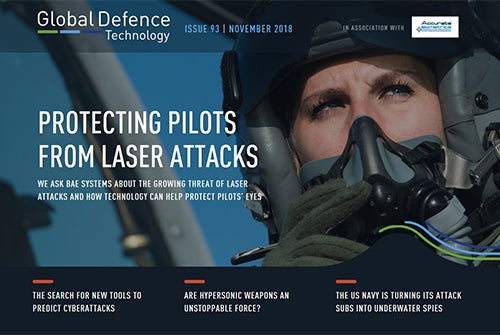 Issue 93 | November 2018
Protecting pilots from laser attacks, tools for predicting cyberattacks, the latest on hypersonic weapons, new missions for the US Navy's attack submarines and more.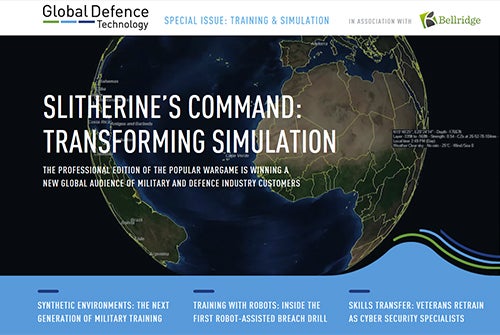 Special issue: Training | November 2018
How the Command simulation game helps military planners, the future of synthetic training environments, the first robotic-assisted breach drill, new tech for sniffer dog handlers, cyber training for vets, and more.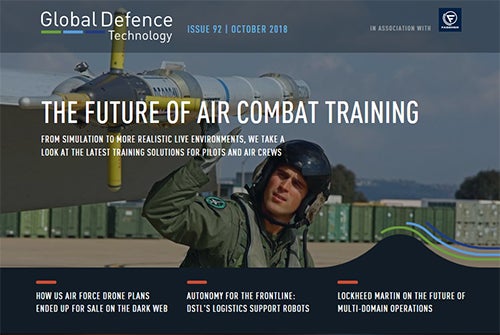 Issue 92 | October 2018
The future of air combat training, a look inside multi-domain operations with Lockheed Martin, how US drone plans ended up on the Dark Web, Dstl's new frontine delivery robots, and more.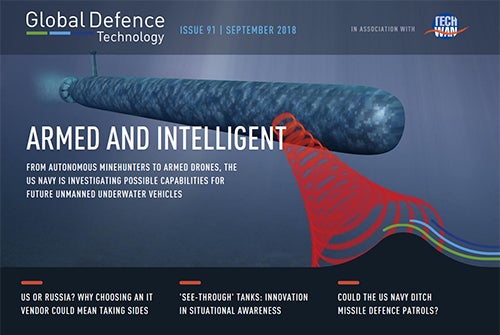 Issue 91 | September 2018
Capabilities of future unmanned underwater vehicles, why the US Navy wants to ditch missile patrols, innovation in situational awareness for AVs, the problem with the Watchkeeper drones, and more.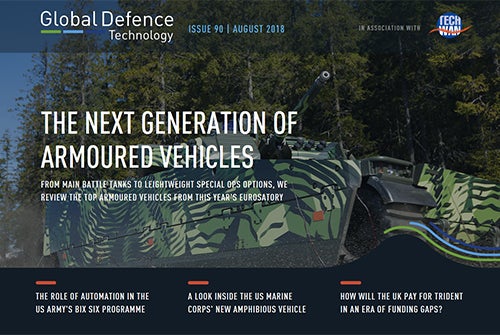 Issue 90 | August 2018
Next-gen armoured vehicles, the role of automation in the US Army's Big Six, defending critical infrastructure, Trident's growing price tag and more.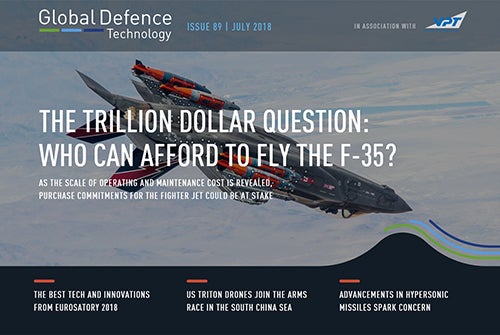 Issue 89 | July 2018
F-35 purchase commitments at stake, the best tech and innovations of Eurosatory 2018, US Triton drones head to the South China Sea, and more.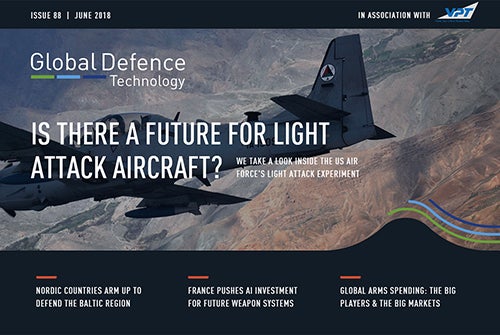 Issue 88 | June 2018
Nordic countries arm to defend the Baltic region, inside the US Air Force's light attack aircraft experiment, France's pushes AI investment for future weapon systems, and more.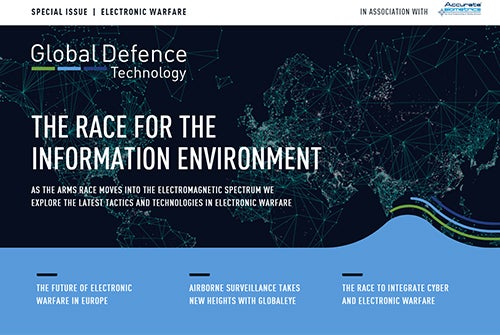 Special issue: Electronic warfare | May 2018
The evolution of electronic warfare, the race to integrate cyber and electronic warfare, airborne surveillance takes new heights with GlobalEye, and more.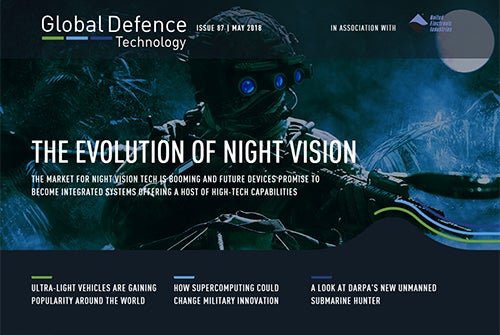 Issue 87 | May 2018
DARPA's prototype unmanned submarine hunter, the Northrop Grumman/ATK deal, Hewlett Packard's new supercomputers for the US Air Force Research Laboratory, and more.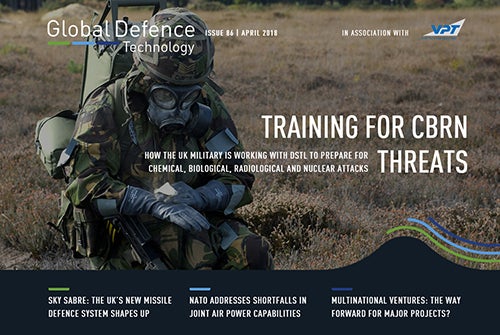 Issue 86 | April 2018
Training the Royal Marines for CBRN threats, inside the Sky Sabre missile defence system, contenders for the US Navy's future Guided Missile Frigate, and more.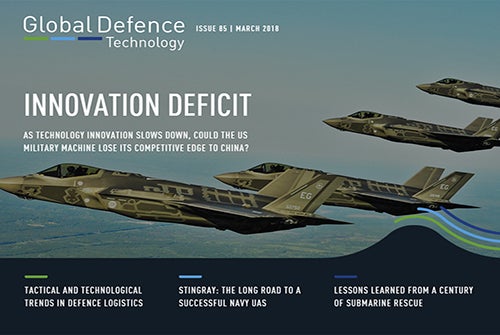 Issue 85 | March 2018
Maintaining the innovation edge, regenerative medicine on the battlefield, the RAF's apprenticeship programme, and more.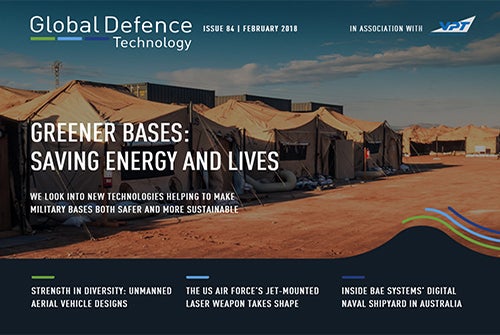 Issue 84 | February 2018
Technology for safer and more sustainable bases, the future of driverless technology in military vehicles, innovative UAV designs, the US Air Force's jet-mounted laser weapons, BAE System's digital naval shipyard, and more.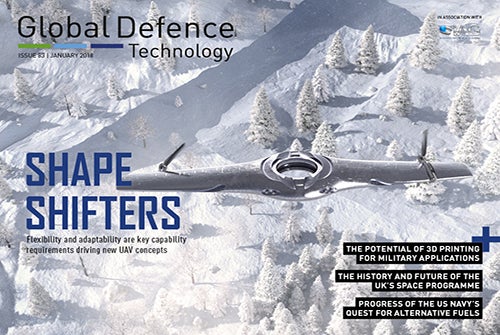 Issue 83 | January 2018
New flexible UAV designs, applications for 3D printing, a look inside the UK's space programme, the future of Fincantieri and Naval Group, the US Navy's green fleet efforts and more.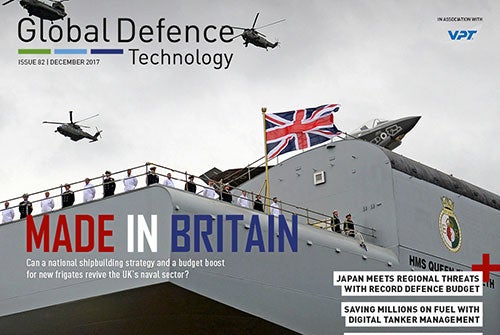 Issue 82 | December 2017
Japan's record defence budget, cybersecurity insights from Airbus, medical equipment for the frontline, saving fuel costs with digital tanker management, the UK's shipbuilding renaissance and more.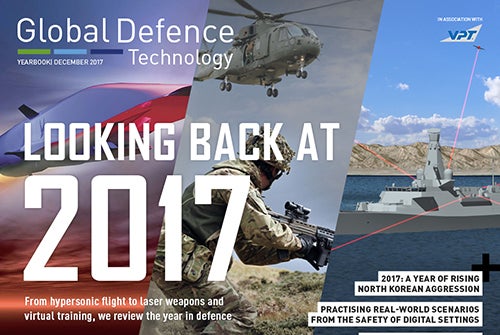 Yearbook 2017
In this special issue we take a look back at the biggest stories, news and technological developments of the past year.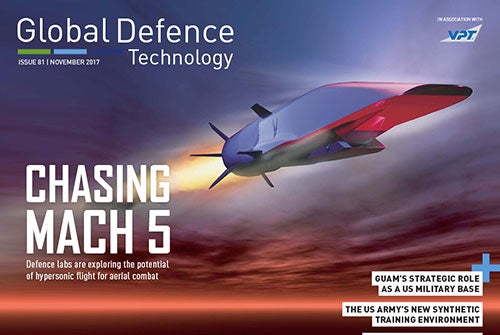 Issue 81 | November 2017
The potential of hypersonic flight for aerial combat, the US Army's Synthetic Training Environment, AI-equipped drones for airfield repairs, the Patriot missile system's role in Korea, Guam's strategic importance for the US, and more.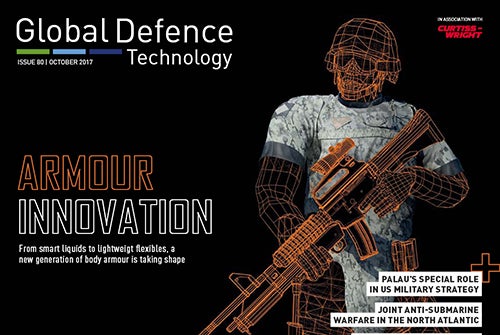 Issue 80 | October 2017
Trends in soldier armour, Palau's place in US military strategy, trans-Atlantic cooperation on anti-submarine warfare, the Royal Navy's Type 26 frigates, 3D printing for naval replacement parts, new treatments for PTSD and more.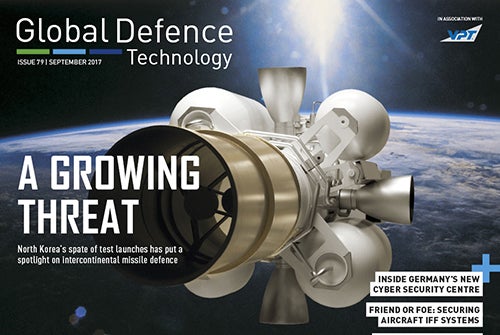 Issue 79 | September 2017
The race to perfect intercontinental missile interception, Germany's new cyber security centre, Dutch defence upgrades, secure IFF equipment for aircraft, new rules for space warfare, cybersecurity concerns over Trident, naval construction logistics and more.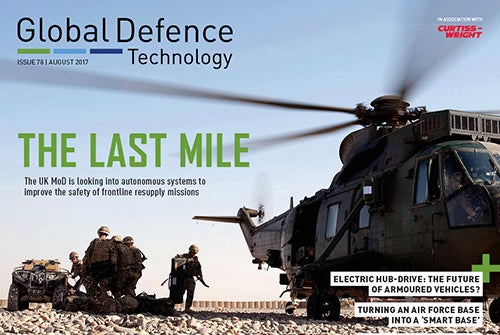 Issue 78 | August 2017
Autonomous systems for frontline resupply, electric hub-drive technology for armoured vehicles, the F-35's arrival in Europe, how to turn an air force base into a 'smart base', the future of littoral warfare and more.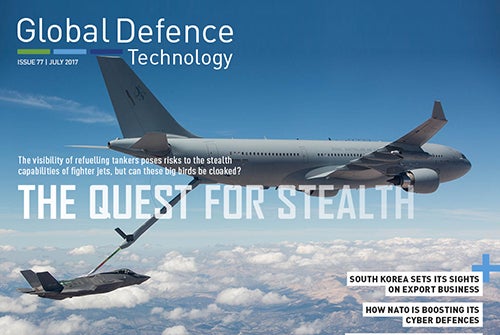 Issue 77 | July 2017
South Korea's defence strategy, NATO's cyber security upgrades, the future of Scotland's military bases, stealth solutions for refuelling tankers, new research into supercavitating torpedoes and more.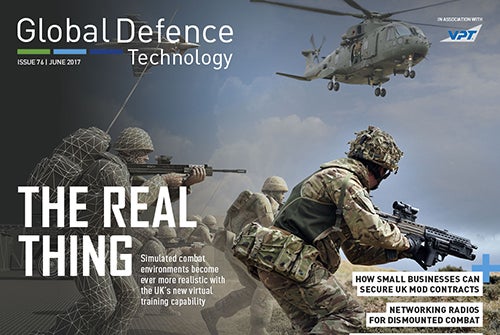 Issue 76 | June 2017
The UK's new virtual training capability, how small businesses can secure MoD contracts, benefits of networking radios for dismounted combat, contenders for the US Marine Corps' Amphibious Combat Vehicle, improving MRO availability with augmented reality tech, and more.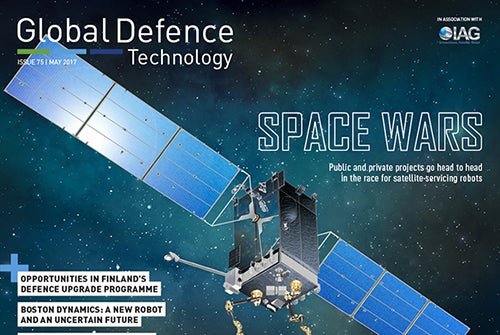 Issue 75 | May 2017
The race for satellite servicing robots in the US, Finland's defence upgrades, replacing the Royal Navy's Harpoon missiles, why NATO must adapt to survive, and more.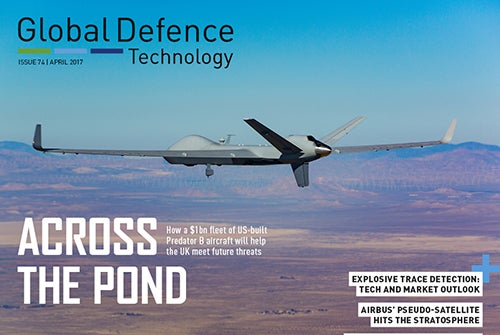 Issue 74 | April 2017
Plans for the new EU army, BAE Systems on cyber security skills, innovation in explosive trace detection, Airbus' high-altitude pseudo-satellite, the UK's $1bn deal for US-built Predator B aircraft, piracy in Somalia after Operation Ocean Shield, and more.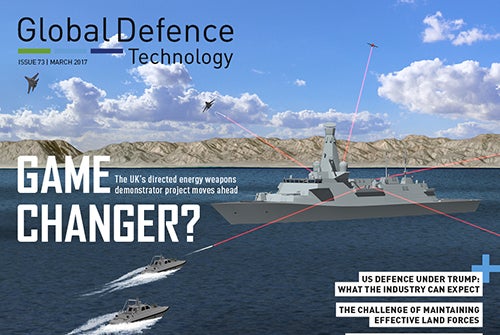 Issue 73 | March 2017
The UK's laser weapons project, US defence under Trump, industry trends for the year ahead, the challenges of maintaining effective land forces, new energy ideas for operating bases, a lesson in air readiness with NATO, and more.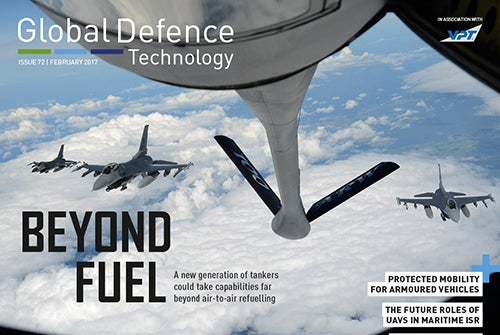 Issue 72 | February 2017
New capabilities in air-to-air refuelling, a look at NATO's new comms system, trends in protected mobility for armoured vehicles, the world's first explosives sniffer drone, the future of UAVs in maritime ISR, closing capability gaps in the Royal Navy, and more.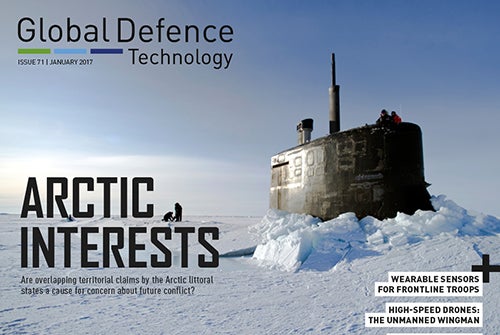 Issue 71 | January 2017
Keeping the peace in the Arctic region, a new satellite service from Airbus, closing the GPS gap with wearable sensors, instant detection for armour damage, high-speed drones for fighter aircraft support, progress of Australia's new submarines, and more.