Issue 109 | March 2020
In this issue: France's new networked AV fleet, the UK's ambitions for a space force, what's new in aerial refuelling technology, and more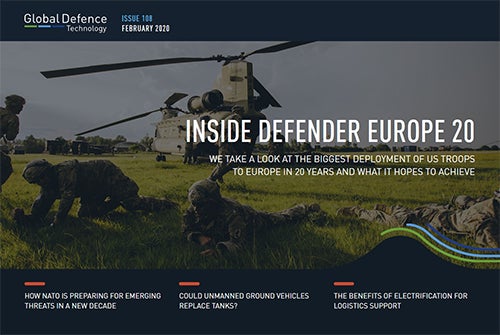 Issue 108 | February 2020
In this issue: A look inside Defender Europe 20, what UGVs mean for the future of tanks, how NATO is adapting to new threats, and more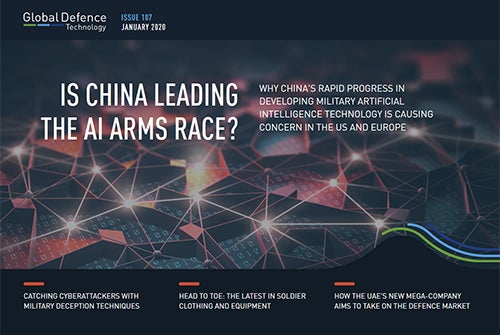 Issue 107 | January 2020
In this issue: Why China could gain an edge in the AI arms race, the potential of the UAE's new defence conglomerate, advances in soldier tech from head to toe, and more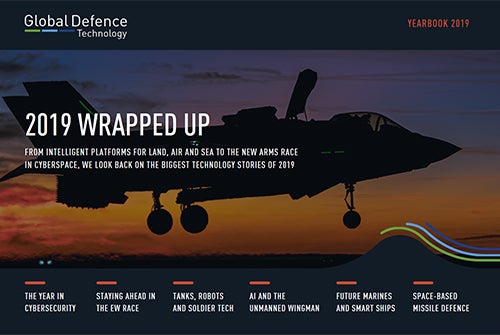 Yearbook 2019
As the year draws to a close we take a look back at some of the biggest defence and technology stories from 2019.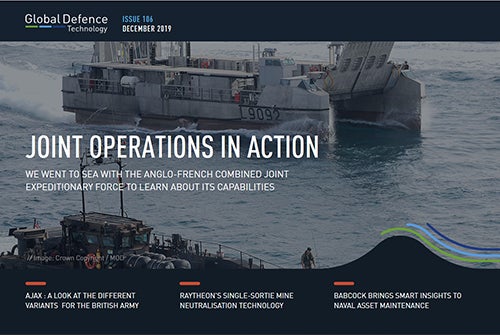 Issue 106 | December 2019
In this issue: We go to sea with the Anglo-French Combined Joint Expeditionary Force, plus: Babcock's smart naval asset maintenance tool, Raytheon on next-gen mine countermeasures, and more.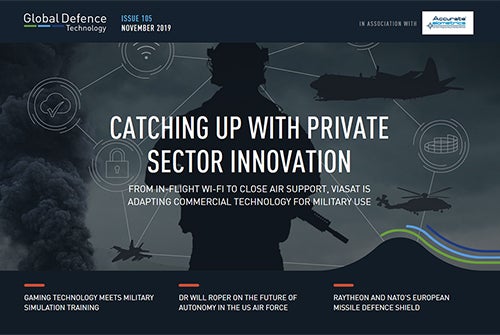 Issue 105 | November 2019
In this issue: Gaming meets military training, bringing defence equipment up to speed with commercial innovation, the US Air Force's service acquisition executive on the future of autonomy, and more.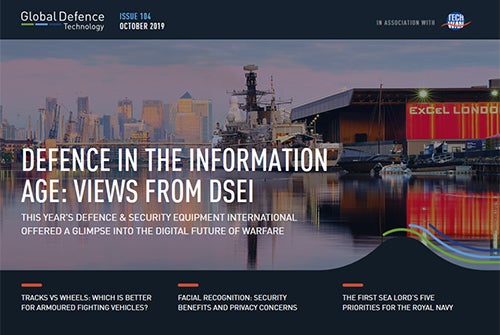 Issue 104 | October 2019
In this issue: The First Sea Lord's five priorities for the Royal Navy and other news from DSEI, tracks vs wheels on armoured fighting vehicles, using facial recognition technology responsibly, and more.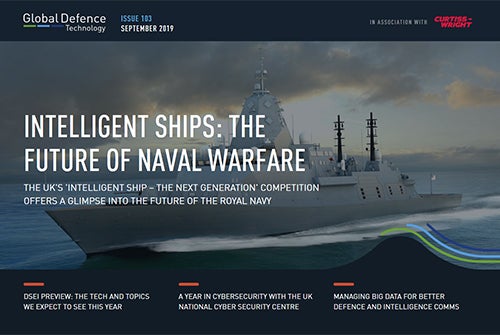 Issue 103 | September 2019
In this issue: Dstl's Intelligent Ship and the future of naval warfare, DSEI preview, emerging cybersecurity threats, training for sixth-generation fighter jets, and more.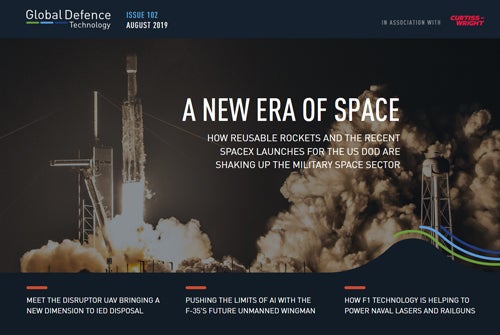 Issue 102 | August 2019
In this issue: SpaceX and the future of US military space launches, the F-35's AI-powered unmanned wingman, a UAV for IED disposal, and more.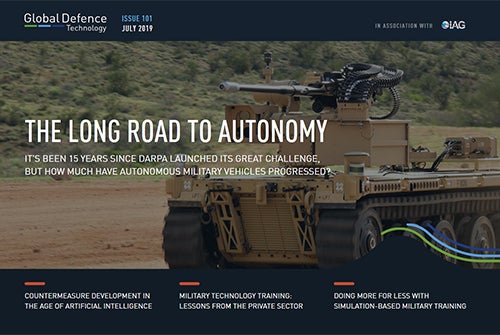 Issue 101 | July 2019
Autonomous military vehicles, using AI to develop countermeasures, tech training lessons from the private sector, reducing cost with simulation training, and more.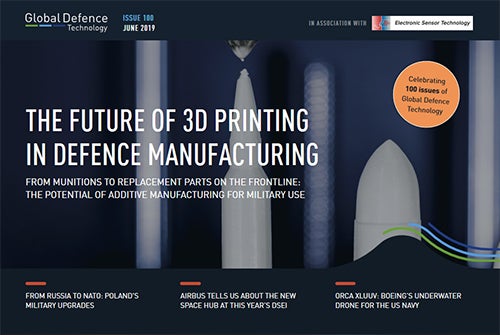 Issue 100 | June 2019
The future of 3D printing in defence manufacturing, Airbus on the new DSEI Space Hub, Poland's military modernisation plan, and more.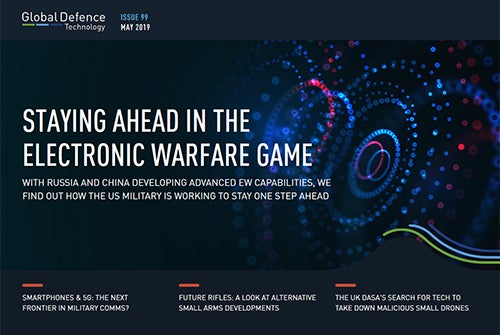 Issue 99 | May 2019
The US Army's electronic warfare programme, the future of communications in the field, new rifle techology, how to take down malicious drones, and more.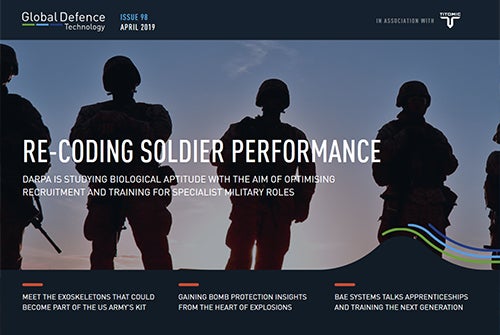 Issue 98 | April 2019
Re-coding soldier performance with biological testing, new exoskeletons, the best of Security and Counter Terror Expo 2019, UAV swarms for search & rescue missions, and more.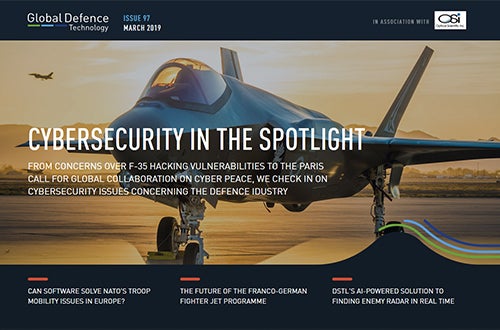 Issue 97 | March 2019
A global effort to keep cyberspace secure, how the F-35 could become vulnerable to hacking, solving NATO's troop mobility issues in Europe, a new AI system to detect enemy radar, and more.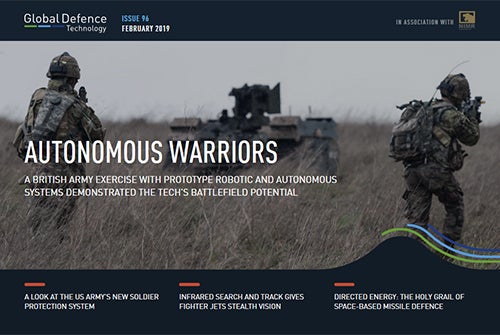 Issue 96 | February 2019
Testing frontline robots, new US Army soldier armour, space-based missile defence, infrared search & track for fighter jets, and more.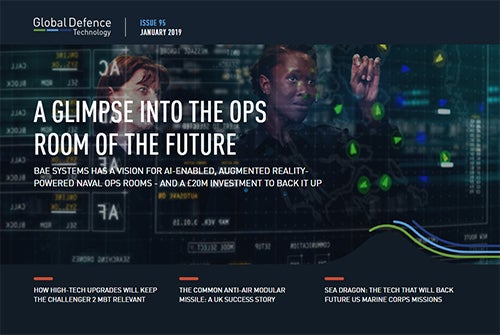 Issue 95 | January 2019
A glimpse into the ops room of the future, high-tech upgrades for the Challenger 2 MBT, the Common Anti-Air Modular Missile, the tech that will back future US Marine Corps missions, and more.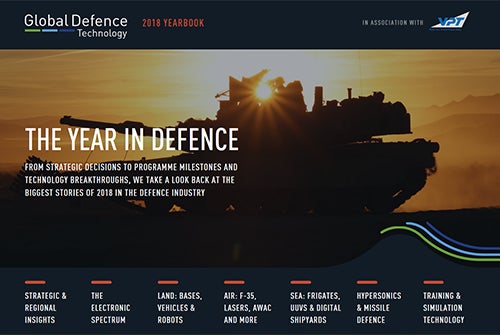 2018 Yearbook
We take a look back at some of the biggest stories, technology news and programme updates from the past year in the defence industry.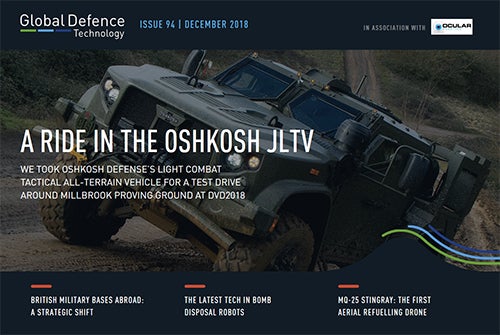 Issue 93 | December 2018
A ride in the Oshkosh JLTV, British military bases abroad, the latest robotic tech for bomb disposal and last mile supply, the first aerial reufelling drone and more.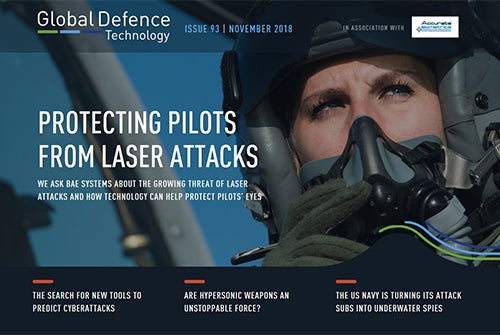 Issue 93 | November 2018
Protecting pilots from laser attacks, tools for predicting cyberattacks, the latest on hypersonic weapons, new missions for the US Navy's attack submarines and more.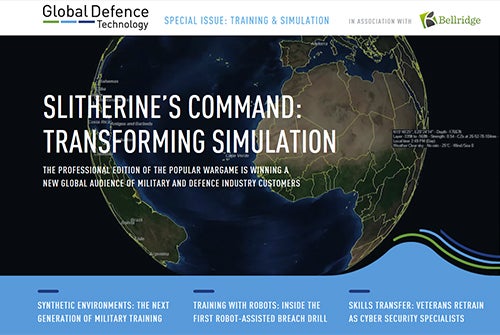 Special issue: Training | November 2018
How the Command simulation game helps military planners, the future of synthetic training environments, the first robotic-assisted breach drill, new tech for sniffer dog handlers, cyber training for vets, and more.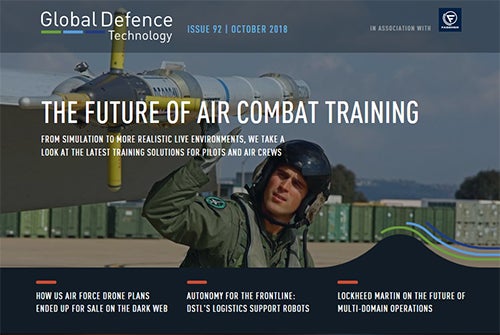 Issue 92 | October 2018
The future of air combat training, a look inside multi-domain operations with Lockheed Martin, how US drone plans ended up on the Dark Web, Dstl's new frontine delivery robots, and more.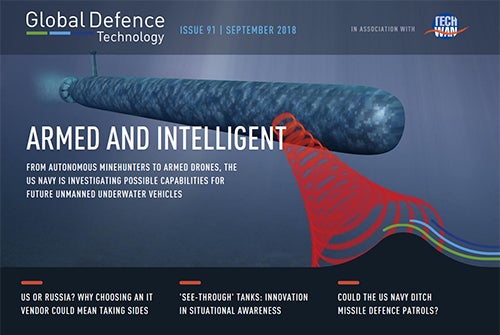 Issue 91 | September 2018
Capabilities of future unmanned underwater vehicles, why the US Navy wants to ditch missile patrols, innovation in situational awareness for AVs, the problem with the Watchkeeper drones, and more.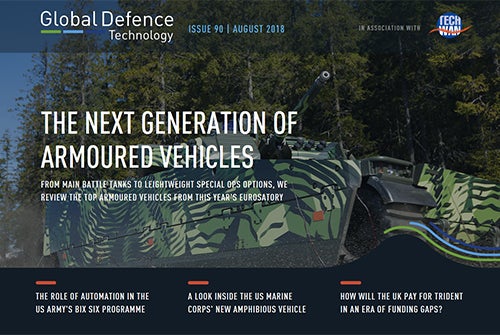 Issue 90 | August 2018
Next-gen armoured vehicles, the role of automation in the US Army's Big Six, defending critical infrastructure, Trident's growing price tag and more.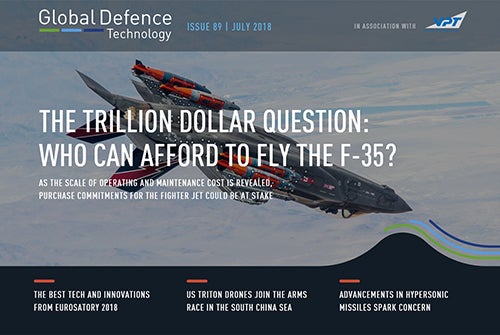 Issue 89 | July 2018
F-35 purchase commitments at stake, the best tech and innovations of Eurosatory 2018, US Triton drones head to the South China Sea, and more.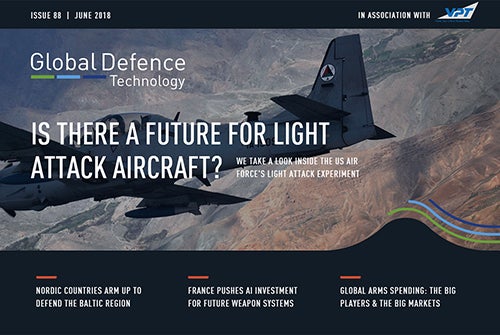 Issue 88 | June 2018
Nordic countries arm to defend the Baltic region, inside the US Air Force's light attack aircraft experiment, France's pushes AI investment for future weapon systems, and more.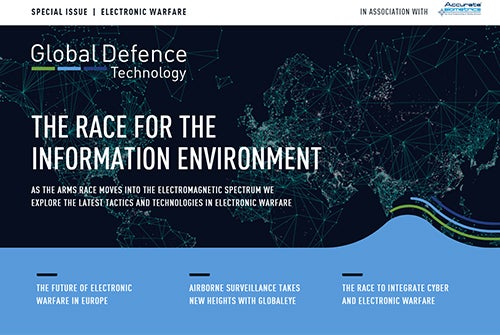 Special issue: Electronic warfare | May 2018
The evolution of electronic warfare, the race to integrate cyber and electronic warfare, airborne surveillance takes new heights with GlobalEye, and more.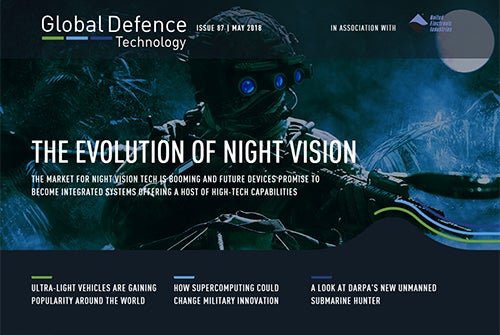 Issue 87 | May 2018
DARPA's prototype unmanned submarine hunter, the Northrop Grumman/ATK deal, Hewlett Packard's new supercomputers for the US Air Force Research Laboratory, and more.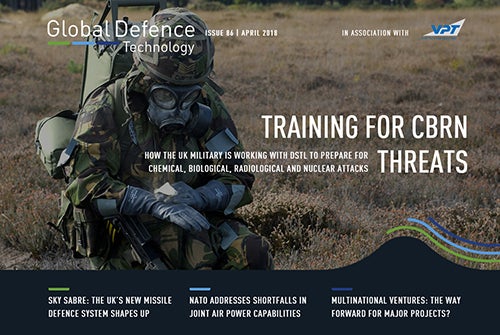 Issue 86 | April 2018
Training the Royal Marines for CBRN threats, inside the Sky Sabre missile defence system, contenders for the US Navy's future Guided Missile Frigate, and more.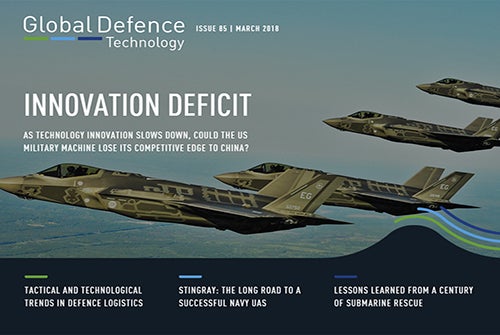 Issue 85 | March 2018
Maintaining the innovation edge, regenerative medicine on the battlefield, the RAF's apprenticeship programme, and more.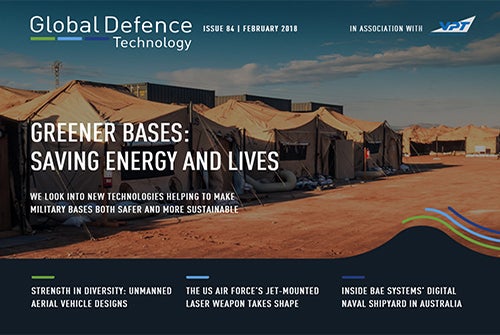 Issue 84 | February 2018
Technology for safer and more sustainable bases, the future of driverless technology in military vehicles, innovative UAV designs, the US Air Force's jet-mounted laser weapons, BAE System's digital naval shipyard, and more.