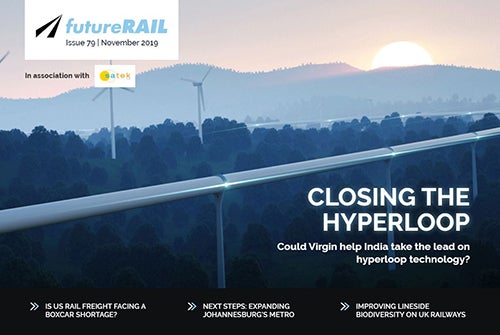 Issue 79 | November 2019
In this issue: building a Hyperloop system in India, boxcar shortages in the US rail freight sector, how predictive mapping could help railways cut noise emissions, and more.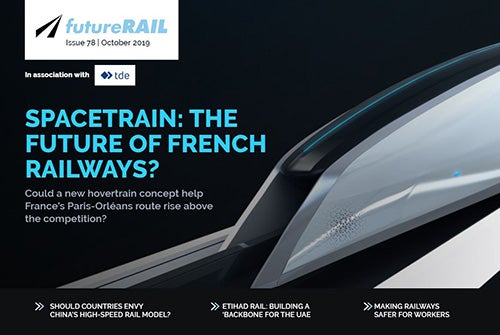 Issue 78 | October 2019
In this issue: the pros and cons of Chinese high-speed rail development, key safety challenges for rail workers, a new 'hovertrain' concept from French start-up Spacetrain, and more.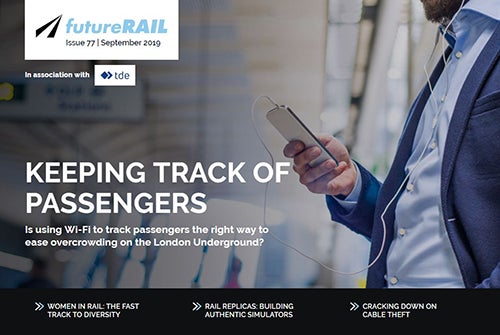 Issue 77 | September 2019
In this issue: Using Wi-Fi to track passenger behaviour, developing rail simulation games, key milestones in the single European railway project, and more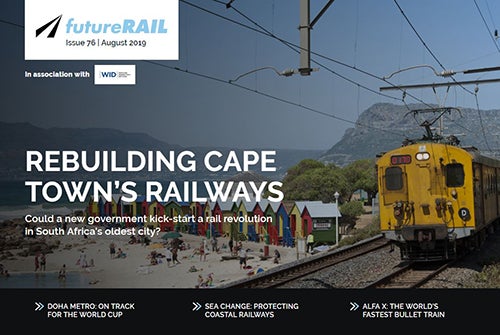 Issue 76 | August 2019
In this issue: inside Cape Town's struggling rail network, a new metro for Doha, the impact of climate change on coastal railways, and more.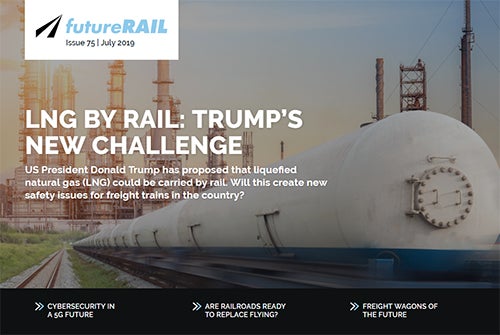 Issue 75 | July 2019
In this issue: Donald Trump's LNG challenge for US railways, AI and IoT in predictive maintenance, futuristic freight wagons and more.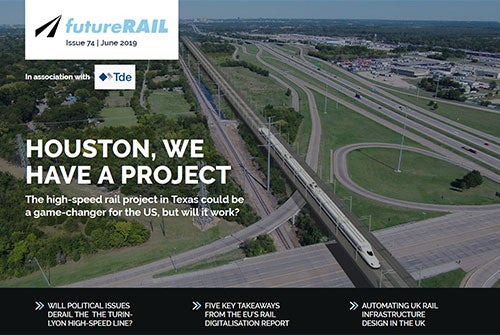 Issue 74 | June 2019
In this issue: a look at the Houston-Dallas high-speed line, the EU's view on digitalisation in the rail sector, automating infrastructure design in the UK, and more.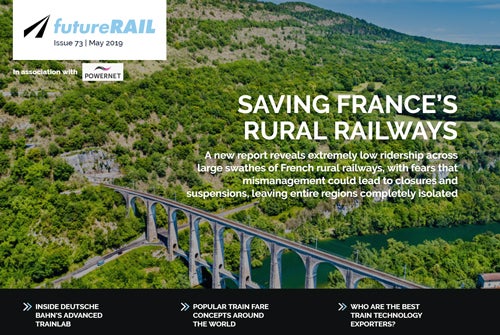 Issue 73 | May 2019
In this issue: saving French rural railways, analysing Deutsche Bahn's Advanced TrainLab, finding out where hydrail would work in the UK, automatic face recognition trials, and more.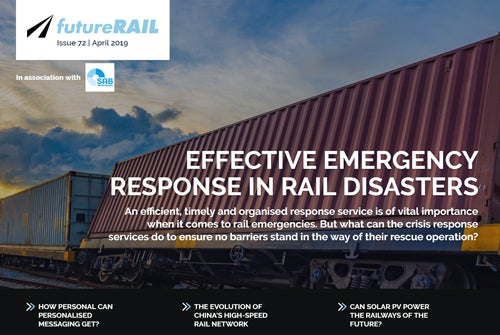 Issue 72 | April 2019
In this issue: personalised disruption messaging begins its first UK trial, the effects of natural disasters on the world's rail networks, key lessons from successful projects, and more.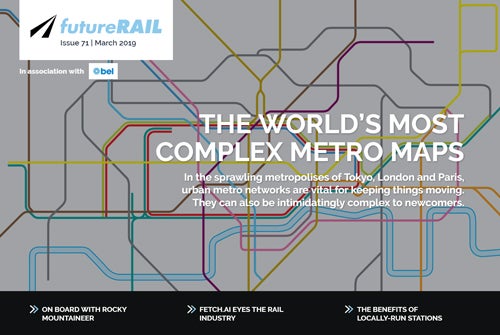 Issue 71 | March 2019
In this issue: making the case for rail station devolution, mapping the world's most complex metro maps, face-to-face with Fetch.AI, 3D printing in the rail industry, and more.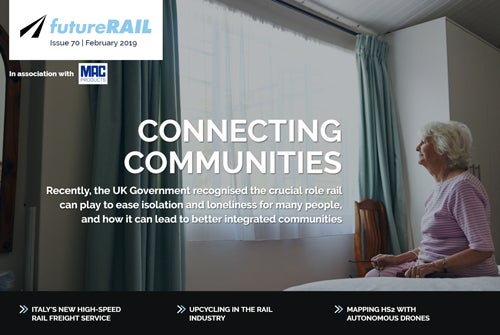 Issue 70 | February 2019
In this issue: Italy's new high-speed freight service, upcycling in the rail industry, mapping HS2 with autonomous drones, steam-age signalling in the UK, and more.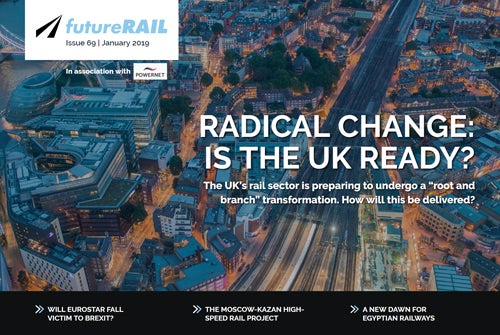 Issue 69 | January 2019
In this issue: a new dawn for Egyptian rolling stock, Brexit pressures on the Eurostar, in conversation with c2c, the latest on the Moscow-Kazan project, and more.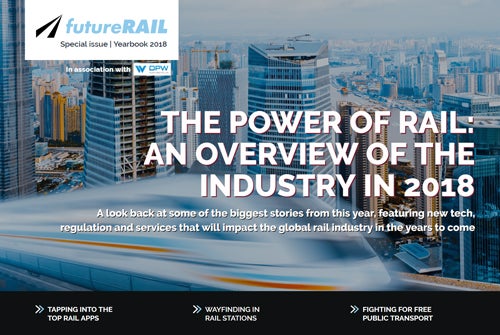 Yearbook 2018
In this issue: the economic contribution of urban rail, top passenger apps, making the case for free transport, VR applications at train stations, the world's top high-speed routes, and more.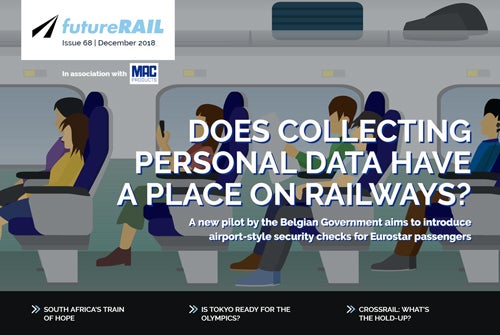 Issue 68 | December 2018
In this issue: South Africa's Phelophepa train, passenger data collection, getting ready for the Tokyo Olympics, wayfinding in train stations, and more.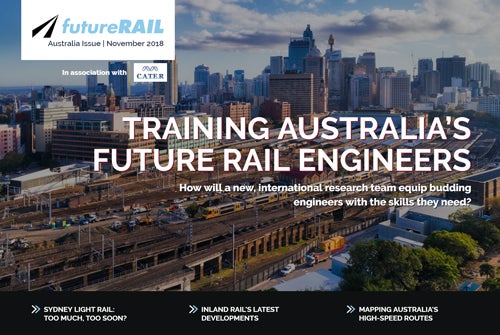 Australia issue | November 2018
The latest trials and tribulations on Inland Rail, mapping Australia's potential high-speed routes, a brand new training centre for tomorrow's engineers, Sydney's light rail fiasco, and more.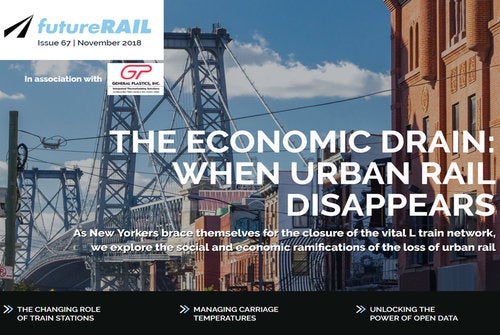 Issue 67 | November 2018
Spain's high-speed woes, the economic contribution of urban rail, Hyperloop's first passenger capsule, carriage temperature and more.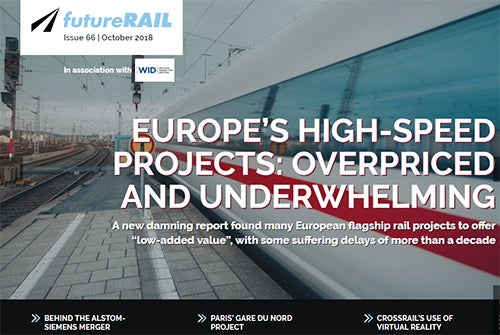 Issue 66 | October 2018
Europe's high-speed projects, the Alstom-Siemens merger, underground train innovation, railway drones, Paris' Gare du Nord expansion project, and more.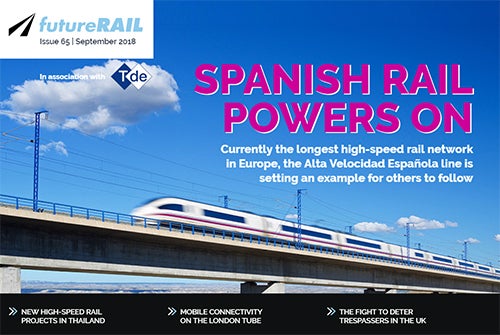 Issue 65 | September 2018
TfL's plans to bring mobile networks to the underground, Spain's state-of-the-art high-speed network, how new rail project in Thailand could boost the economy, Brazil's abandoned lines, retail opportunities for stations, and more.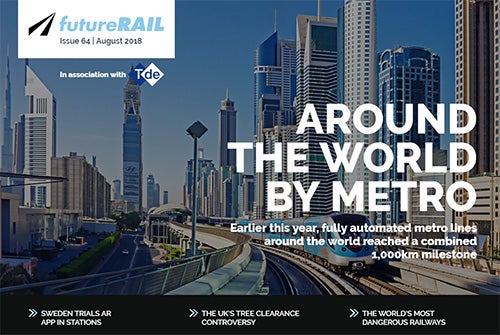 Issue 64 | August 2018
Network Rail's ruthless new tree clearance plans, an AR app being trialled in Sweden's train stations, the world's most dangerous railways, how to improve UK rail fares, a closer look at metro lines around the globe, and more.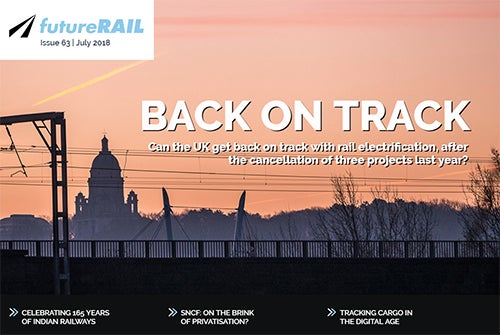 Issue 63 | July 2018
Tracking cargo with digital technologies, the 18km Fehmarnbelt tunnel, upgrading New York City's subway, 165 years of Indian Railways, plans to reform France's SNCF rail company, UK track electrification plans, and more.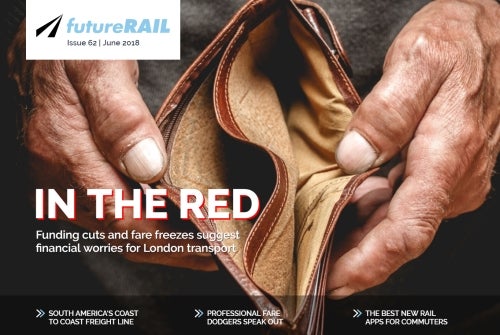 Issue 62 | June 2018
Transport for London's financial woes, professional fare dodgers, the South American mega freight corridor, the UK's East Coast Line, ranking global rail hubs, the best rail apps for commuters, and more.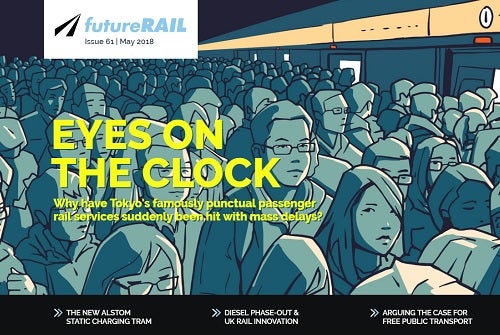 Issue 61 | May 2018
Trouble for Tokyo's commuters, implementing positive train control, the UK diesel phase-out, Alstom's station-charging tram, the case for free transit, cross-country tickets, and more.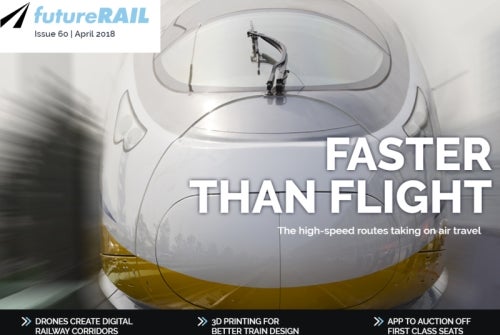 Issue 60 | April 2018
High-speed rail routes winning out over air travel, Jerusalem-Tel Aviv, Northern Powerhouse Rail, 3D printing rail cars, drones for surveying, auctioning first class tickets, and more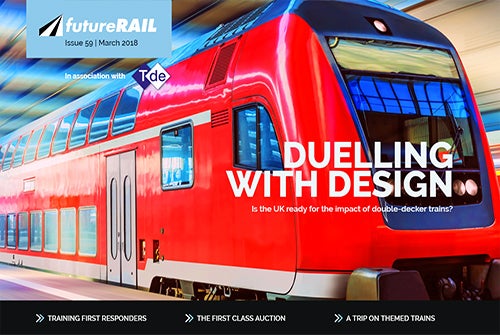 Issue 59 | March 2018
Double-decker trains in the UK, Columbia's Bogotá metro line, training first responders, themed trains, and more.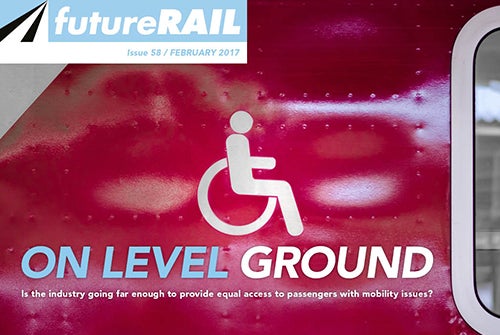 Issue 58 | February 2018
Breaking barriers for wheelchair users, Beijing's maglev, smart rail, Brenner Base Tunnel, hydrogen-powered trains, solar sleepers, and more.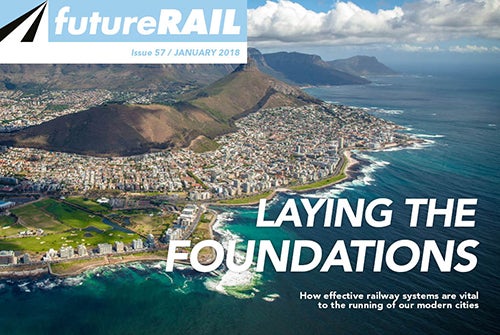 Issue 57 | January 2018
Saving Cape Town's trains, Amtrak infrastructure, managing night transport, Hyperloop designs, using WiFi for better journeys, commuter input, and more.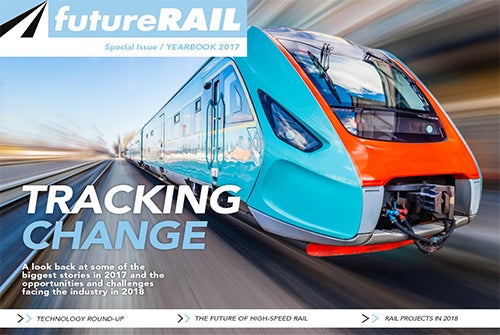 Yearbook 2017
A look back at the top stories, projects and innovations of 2017, developments to look out for in 2018, and more.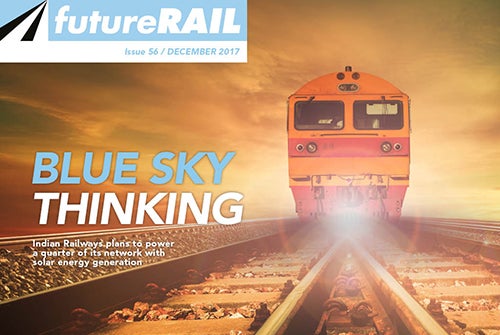 Issue 56 | December 2017
Indian Railways' solar drive, Australia's national framework, the Crossrail legacy, signalling problems, ticket price predicting tools, the threat of taxi apps, and more.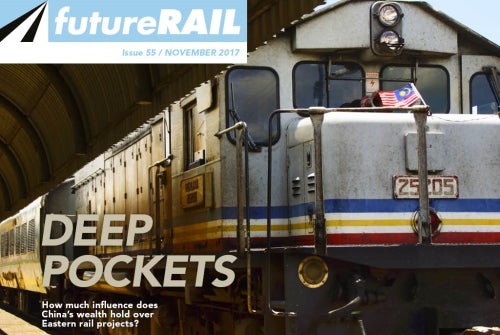 Issue 55 | November 2017
China's funding of Eastern rail, Australia's freight corridor, Network Rail reforms, facial recognition tech, cable theft, reliable onboard WiFi, and more.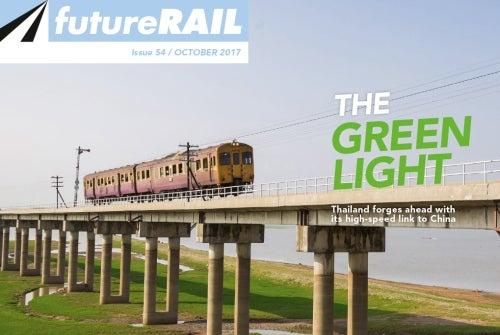 Issue 54 | October 2017
Thailand's link to China, Stockholm's landscape bridge, an air-propelled prototype, breathing in London's underground, drone-based surveying, riding the Mail Rail, and more.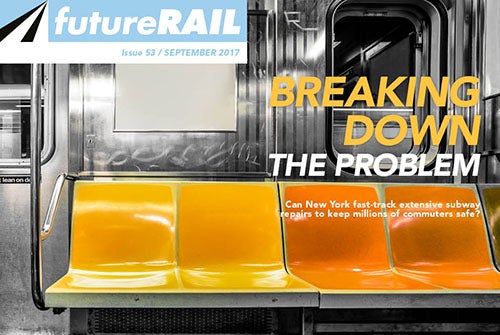 Issue 53 | September 2017
The New York subway, Chinese manufacturers, Europe's night trains, third-gen rolling stock, the barriers for start-ups, level crossings dangers, and more.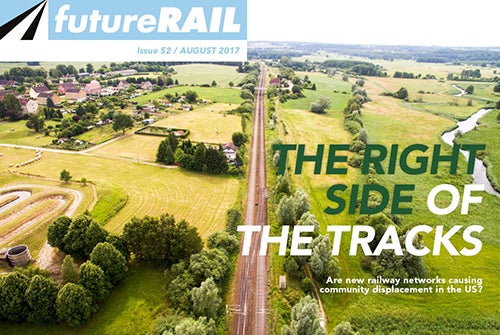 Issue 52 | August 2017
Displacing communities with modern rail, driverless trains in Germany, reopening a disused London station, the Great Lakes Basin project, a Siemens-Bombardier merger, a look in the lost and found, and more.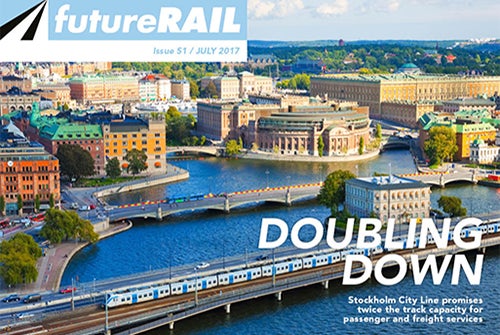 Issue 51 | July 2017
Doubling down on Stockholm rail, positive train control, Ontario express is a GO, sustainable rail tourism, rebuilding Riga station, UK freight's timetable, and more.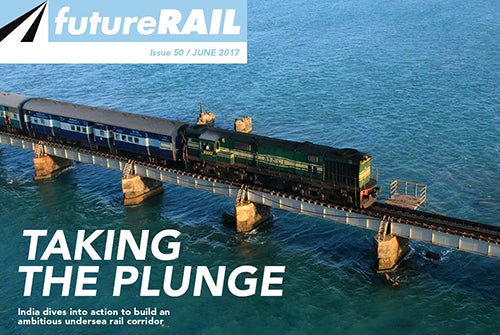 Issue 50 | June 2017
India's undersea bullet, Montréal's transit through toxic waste, rolling stock troubles for Queensland, declining freight, Night Tube noise, mapping trains in real-train, and more.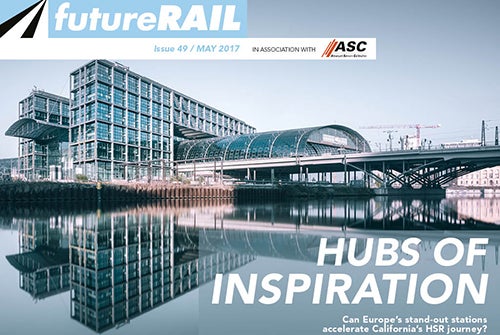 Issue 49 | May 2017
Learning from European HSR design, a corridor to the Baltic states, inner city rail construction, the Texas bullet, driver only trains, shaking up rail fares, and more.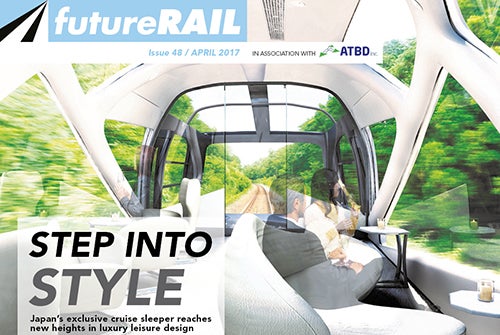 Issue 48 | April 2017
Onboard Japan's luxury sleeper, China's high-speed rail transfer policy and direct rail freight for the UK, the unlikely success of monorails, GE's trainsets for India, Stuttgart's new station, and more.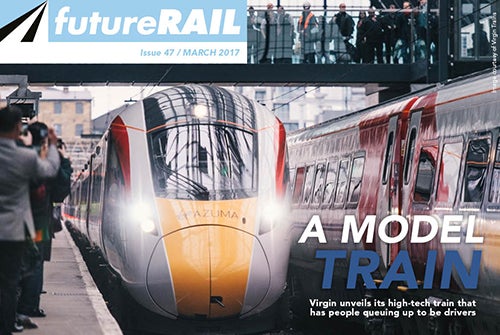 Issue 47 | March 2017
Exporting Japan's bullet train, what it takes to drive Virgin Trains' new Azuma, Sydney Metro's growth spurt, solar-powered trains, engines of tomorrow, combating fake tickets, and more.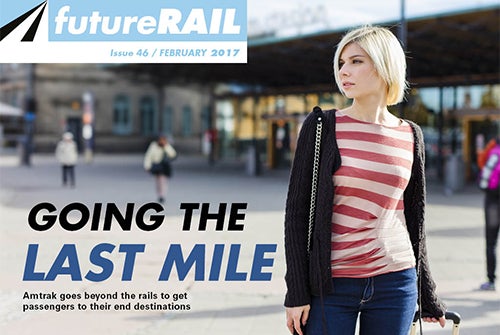 Issue 46 | February 2017
Amtrak and Uber unite for the last mile, open access passenger services, HS2's second stage, using drones for accident investigations, e-tickets in the Apple Wallet, passenger security, and more.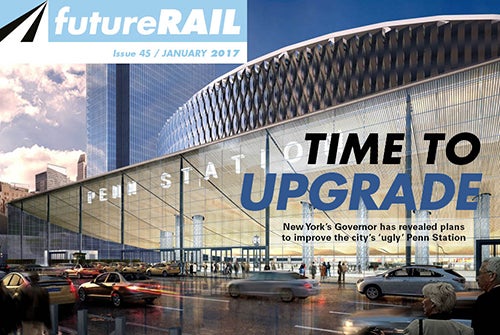 Issue 45 | January 2017
Best of the projects coming up this year, New York Penn Station's revamp, dealing with delay compensation and alcohol consumption, green alternatives for non-electrified lines, turning locomotives into inspectors, and more.