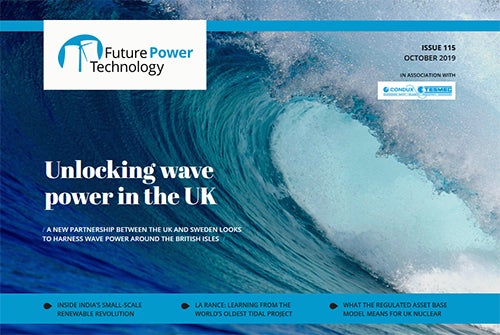 Issue 115 | October 2019
In this issue: a new wave power project for the UK, the start-ups driving India's small-scale renewables boom, the future of hydrogen in Europe, and more.
Issue 114 | September 2019
In this issue: we look at what needs to change for the UK to hit it's 2050 carbon-free goals, how to make hydrocarbons using solar power and water, the benefits of open source data, and more.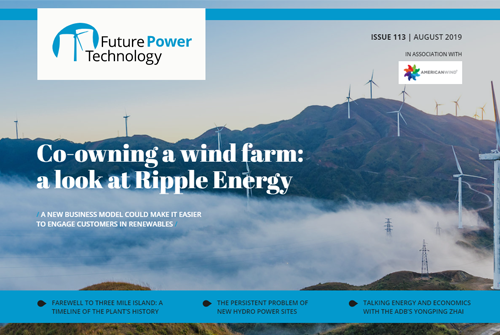 Issue 113 | August 2019
In this issue: we look at the best countries for renewables investment, how to choose a new hydropower site, the technologies seeking to protect birds from wind turbines, and more.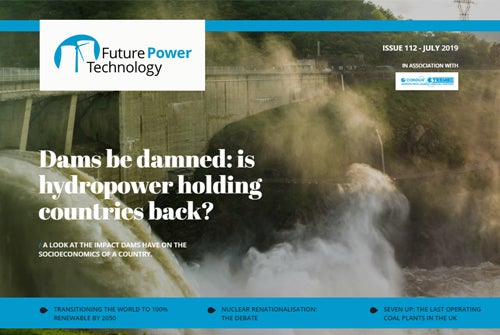 Issue 112 | July 2019
In this issue: going 100% renewable, the last coal power stations in the UK, filling the energy skills gap, and more.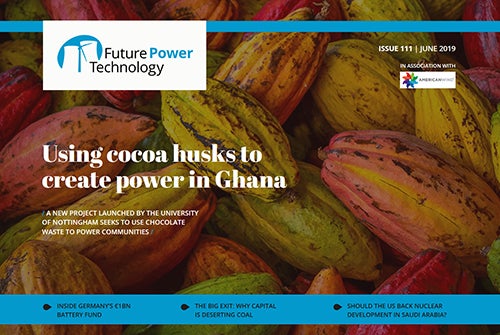 Issue 111 | June 2019
In this issue: creating biofuel from cocoa waste in Ghana, why offshore got left out of the UK's wind energy push, investors' mass exudus from coal, and more.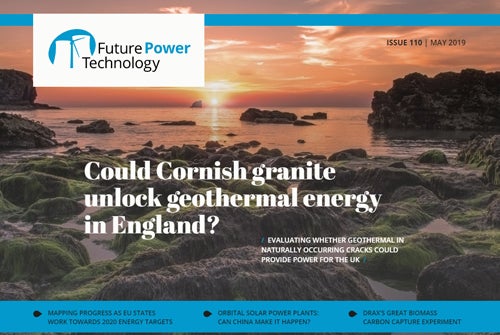 Issue 110 | May 2019
In this issue: we look at which EU states are set to meet their 2020 targets, the world's largest offshore windfarm, the Swansea Bay Tidal Lagoon, and more.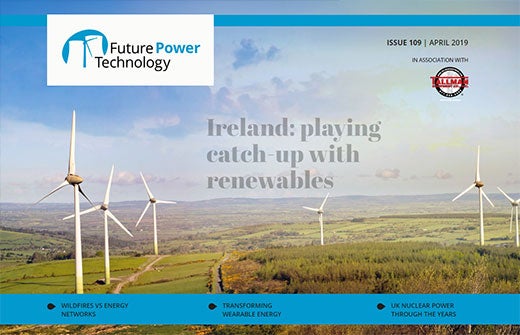 Issue 109 | April 2019
In this issue: Ireland's plan to catch-up on emissions reductions, solar power in Africa, miniaturised solar cells in clothes, the rise and fall of UK nuclear power, and more.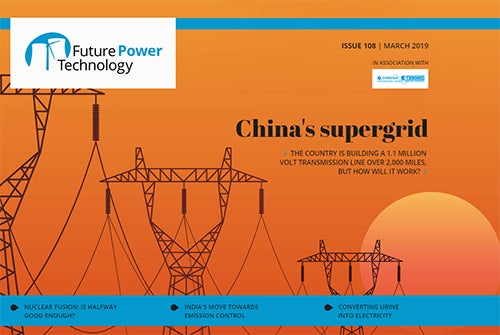 Issue 108 | March 2019
In this issue: India's plans to co-fire all coal-based power plants with biomass, the future of fusion nuclear energy, a new energy storage tower, China's mega transmission line project, and more.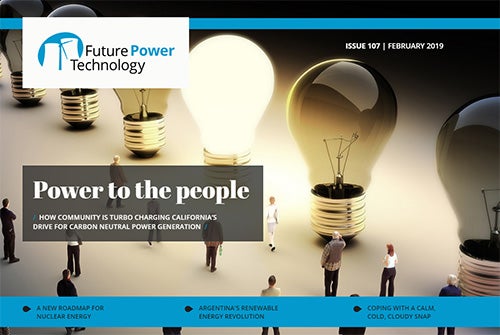 Issue 107 | February 2019
In this issue: California's plans to engage with local communities, the IAEA's new nuclear roadmap, Argentina's rapidly changing energy market, energy mapping from space, and more.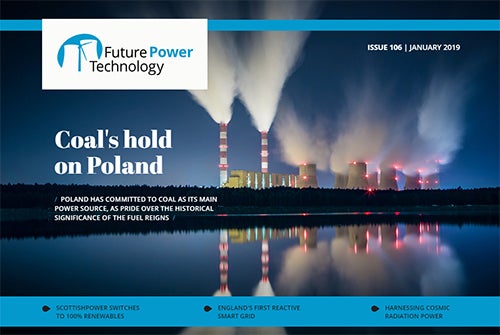 Issue 106 | January 2019
In this issue: The debate over fracking in the UK, ScottishPower's commitment to 100% renewable energy, England's first grid-scale smart network, Poland's reliance on coal, and more.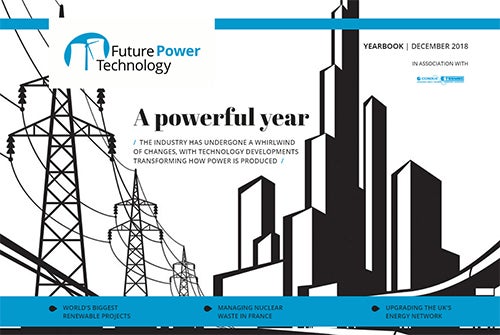 Yearbook | December 2018
In this issue: We round up the biggest stories of 2018, take a look at projects leading the way in renewable energies, predict the major trends to look for in the coming year, and more.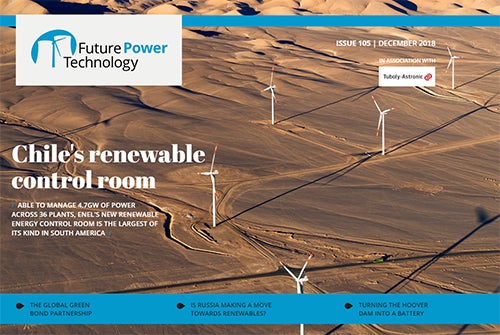 Issue 105 | December 2018
In this issue: The new Global Green Bond Partnership, Russia's move to adopt renewables, turning the Hoover Dam into a battery, the issue of recycling solar panels, Enel's energy control room, and more.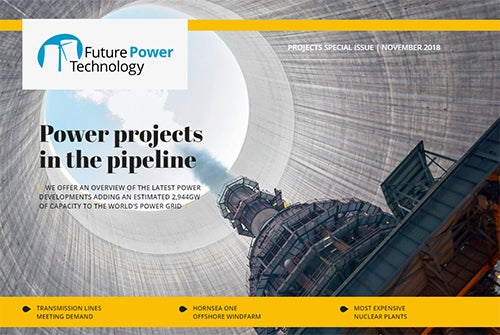 Special Issue | November 2018
In this issue: This special issue focuses on power projects around the world, the top 20 renewable projects, under construction, the state of coal, gas and nuclear plants around the world, and more.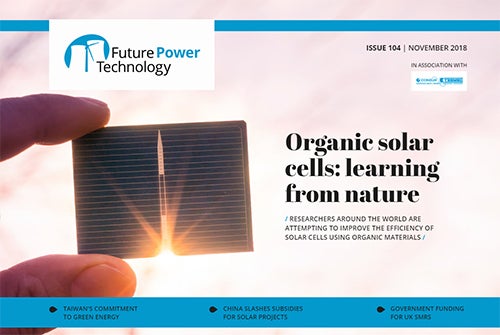 Issue 104 | November 2018
In this issue: Taiwan's switch to renewables, China's decision to slash solar subsidies, the development of a new generation of organic solar cells, a new superfast electric vehicle charger, and more.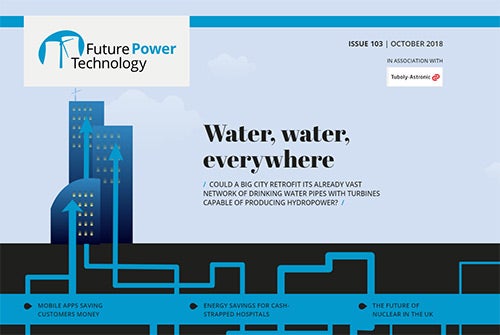 Issue 103 | October 2018
The impact of blockchain on Europe's distribution network operators, a mobile app saving customers money, experts weigh in on the future of nuclear power in the UK, and more.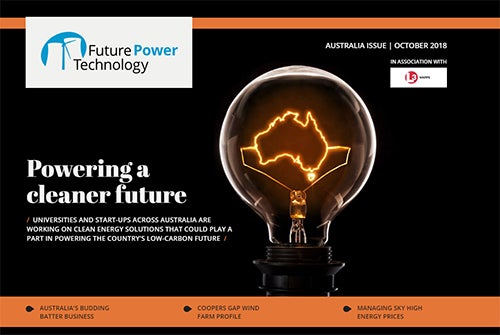 Australia Issue | October 2018
An insight into the Australian Government's National Energy Guarantee, the latest power projects kicking off across the country, Coopers Gap windfarm profile, and more.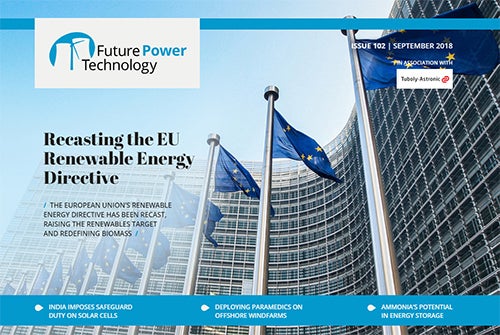 Issue 102 | September 2018
Recasting the EU Renewable Energy Directive, promising renewable projects in Africa, the world's biggest solar power plants, risks faced by paramedics on offshore windfarms, and more.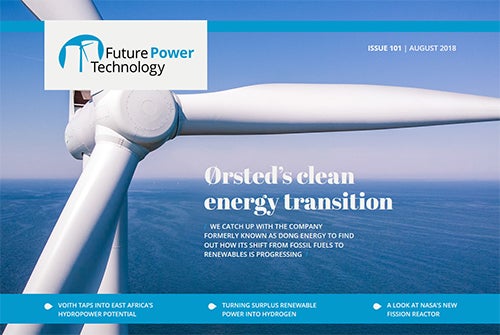 Issue 101 | August 2018
Ørsted's first year in renewables, Voith's move into East African hydropower, London's push for solar power investment, GE's greener transmission gas, NASA's fission reactor, and more.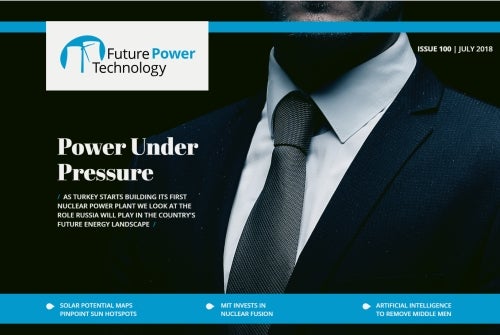 Issue 100 | July 2018
Russian influence on Turkey's energy landscape, solar potential maps, investing in nuclear fusion, AI eradicating third-party intermediaries, net metering for solar, and more.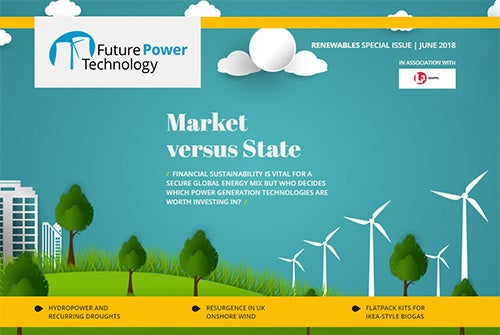 Special Issue | June 2018
Free market vs state control for energy stability, drought's effect on hydro, flatpack biogas, smart meters, onshore wind, solar projects and more.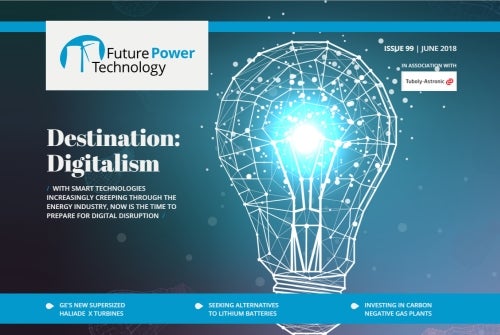 Issue 99 | June 2018
ABB's remote digital operations centre, alternatives to lithium in batteries, smart grids, blockchain, GE's new supersized tubine, US investments in renewables, cleaner gas power, and more.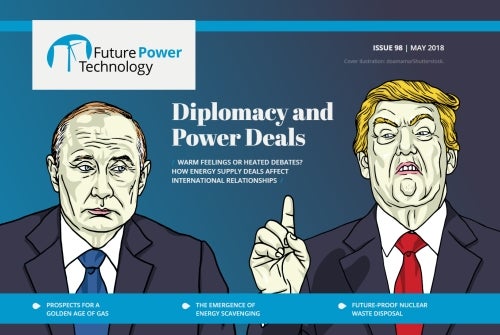 Issue 98 | May 2018
Examining energy politics, the golden age of gas, France's nuclear health, the UK's T-4 energy auction, energy scavenging technology, the global solar boom, and more.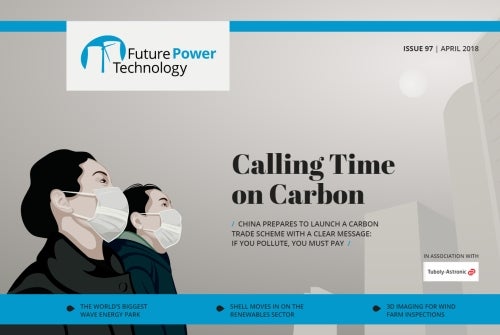 Issue 97 | April 2018
China's carbon trading, investing in Indian solar, Bali's big wave energy, Shell moves into renewables, 3D tech for wind farms, flexible electricity models, and more.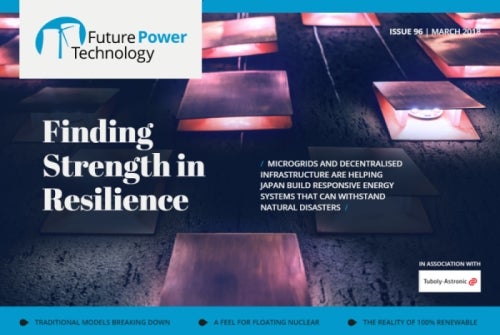 Issue 96 | March 2018
Japanese microgrids build energy resilience, offshore nuclear, evolving power supply models, urban energy, India's potential for 100% renewable, nuclear energy in South Korea, and more.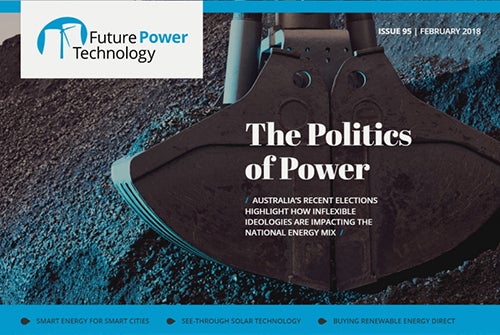 Issue 95 | February 2018
Politicising coal in Australia, see-through solar, smart energy for smart cities, Hywind floating wind farm, PPAs to support renewable sales, a new start for tokamak, and more.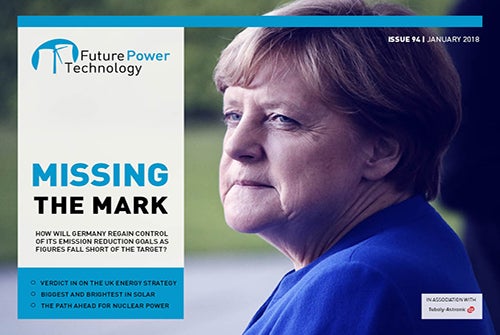 Issue 94 | January 2018
Germany's clean energy targets, the future for nuclear, UK energy strategy, the brightest solar projects, automating utility switching, electricity data sharing, and more.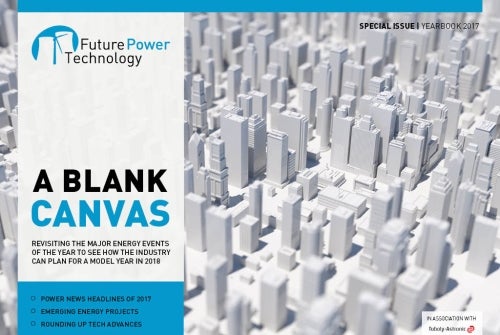 Special Issue | Yearbook 2017
The past year's biggest energy stories, major projects, emerging technologies, the outlook for 2018, and more.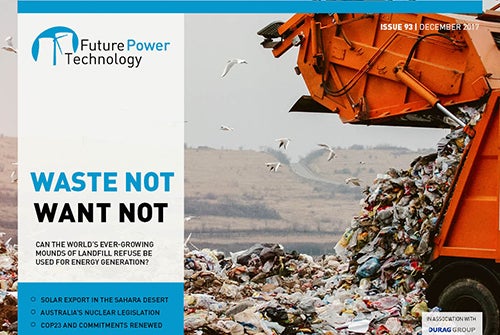 Issue 93 | December 2017
Energising landfill waste, solar in the Sahara, COP23 and the cost of renewables, Australian nuclear, insect eyes inspiring tech, future energy leaders, and more.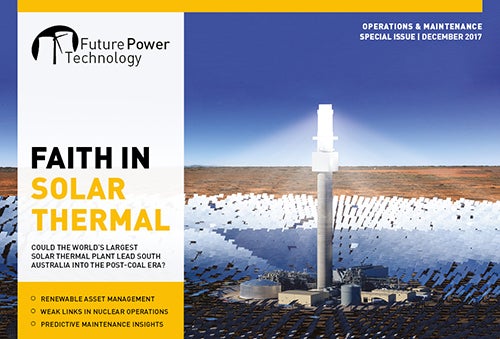 Operations & Maintenance Special Issue | December 2017
Solar thermal for South Australia, maintaining small components in nuclear plants, how acoustic signatures can help improve predictive maintenance, how US operators are dealing with the fallout from hurricane season, and more.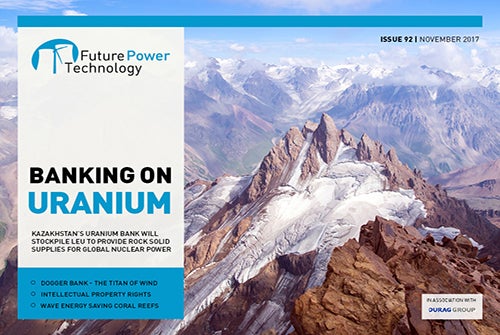 Issue 92 | November 2017
Kazakhstan's uranium bank, Dogger Bank wind titan, the wave energy saving coral, intellectual property rights, cyber security, millennial consumers, and more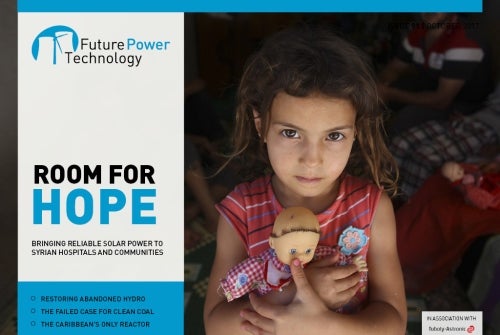 Issue 91 | October 2017
Solar power for Syria, restoring abandoned hydropower in Tajikistan, the failure of clean coal, Caribbean nuclear, UK tidal, wireless power transference, and more.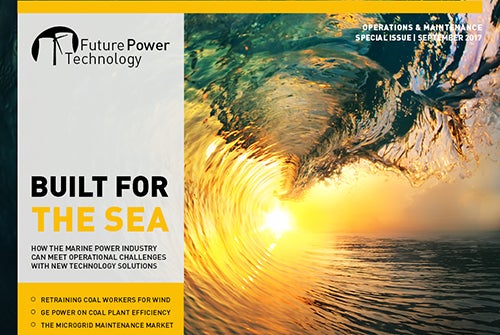 Operations & Maintenance Special Issue | September 2017
Meeting marine operations & maintenance challenges, solar storage testing in Texas, GE Power on improving efficiency in coal generation, opportunities in smart grid maintenance, and more.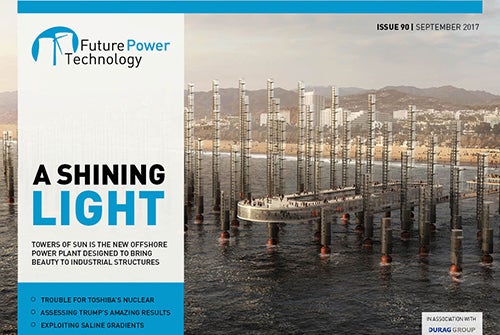 Issue 90 | September 2017
The power of industrial beauty, trouble for Toshiba nuclear, a seawater-freshwater hybrid, US states stand up for climate action, blockchain utility switching, new CCS material, and more.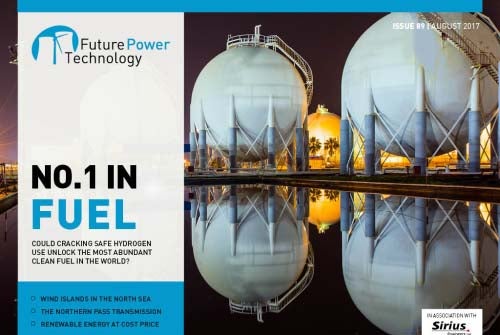 Issue 89 | August 2017
Hydrogen as low-carbon fuel, offshore wind islands, the Northern Pass project, air batteries, renewable energy at cost price, French nuclear, and more.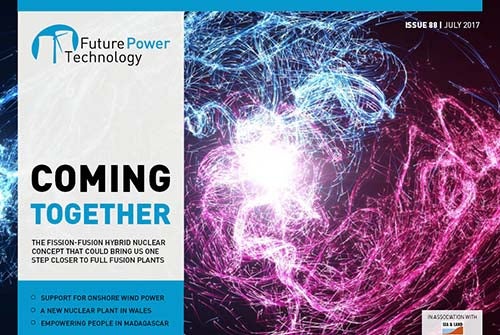 Issue 88 | July 2017
A fusion-fission hybrid, Wales's new nuclear, powering Madagascar, predicting blackouts, blockchains for smartgrids, onshore wind investments, and more.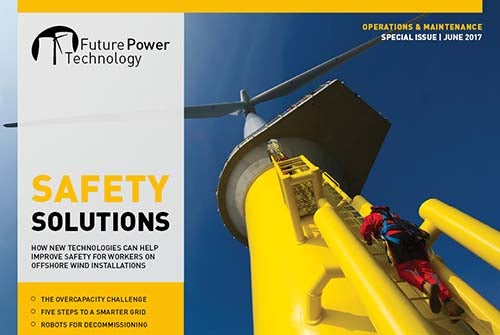 Operations & Maintenance Special Issue | June 2017
Renewables and the challenge of overcapacity, tech solutions for improving offshore wind safety, South Australia's energy woes, a five-step guide to a smarter grid, addressing cyber security in energy networks, robotics for nuclear decommissioning and more.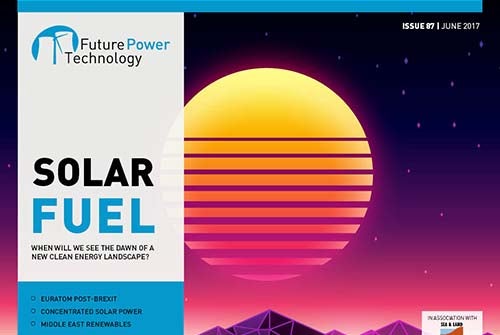 Issue 87 | June 2017
In pursuit of solar fuels, concentrated solar power, the Middle East renewable potential, Euratom post-Brexit, falling UK electricity demand, gamification for energy management, and more.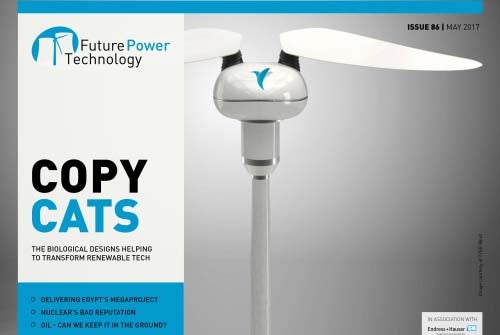 Issue 86 | May 2017
Biomimicry in renewables, Siemens' mega project in Egypt, the UK's industrial strategy, nu SMRs, public perceptions of nuclear, offshore platforms to power stations, and more.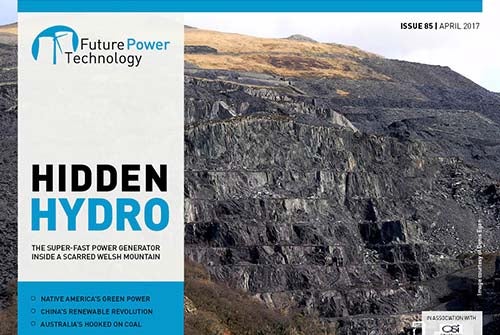 Issue 85 | April 2017
Wales's rapid-response hydro, Native American power, China's renewable revolution, the tidal lagoon proof of concept, Australia pursues clean coal, consumer thoughts on smart grids, and more.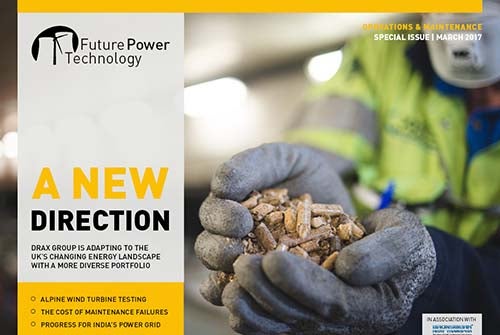 Operations & Maintenance Special Issue | March 2017
Drax Group in the post-coal future, wind turbine testing in mountainous territory, the cost of maintenance failures, damage sensor for power poles, improving grid access in India, open data for electricity infrastructure improvements, and more.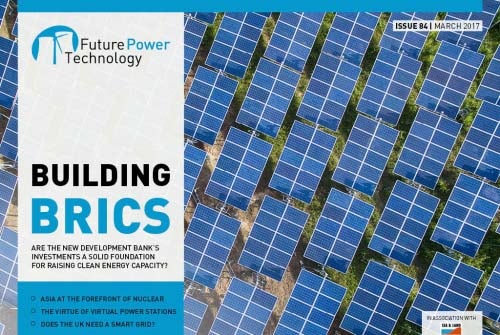 Issue 84 | March 2017
Assessing the New Development Bank's renewable funding in BRICS, mapping Asia's nuclear power progress, solar investment models, building a UK smart grid, hyper-growth of electric cars, the benefits of virtual power plants, and more.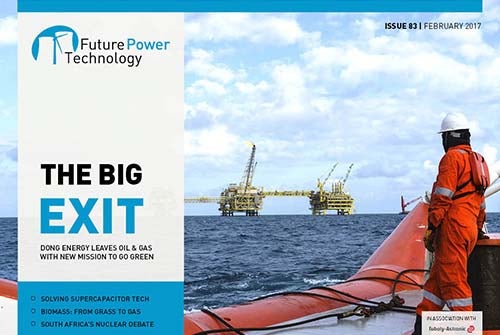 Issue 83 | February 2017
DONG Energy quits oil & gas business, Ecotricity's attempts to crack biomass, South Africa's nuclear debate, a polymer that could solve supercapacitor tech, the UK's 2025 deadline on coal, cheap offshore wind, and more.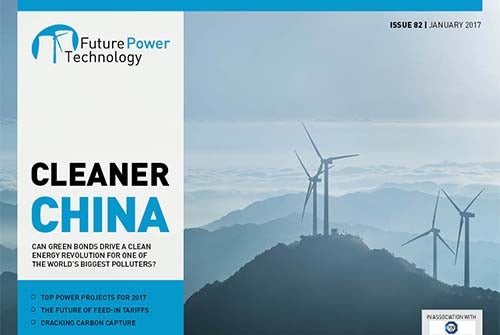 Issue 82 | January 2017
Top projects for 2017, China's green bonds boost clean energy, the future of feed-in-tariffs, Japan's failed fast breeder reactor experiment, a potential breakthrough in carbon capture, and more.